How To Shake The Shanks
© By Butch Harmon Photo: Dom Furore, writen in GolfDigest, July 2009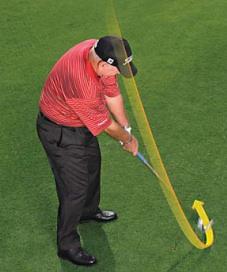 With the clubhead swinging out to in and the face closing, you risk hitting off the hosel.

What is it about the shank that makes golfers run and hide? Two things: First, they don't know what causes it; second, where there's one shank there tends to be another (I'll explain why).




Put an object, like a headcover, just outside the ball to learn to swing down from the inside.

Because the ball darts right, most golfers think an open clubface causes the shank. But shanks usually come from an excessively closed face. The player swings out to in with the face closing hard — both actions push the hosel closer to the ball (top). If the hosel catches the ball, it's shank city.

What do most golfers do to prevent the shank? They try to close the face with the right hand through impact. This only makes the path more out to in and the face more closed — increasing the chances of another shank.

Try this drill. Place a headcover just outside the ball, and practice hitting wedges. If you're making a shank swing (out to in, face closed), you'll hit the headcover. To miss it, you'll swing from the inside with the face more open. That's how to beat the shanks.